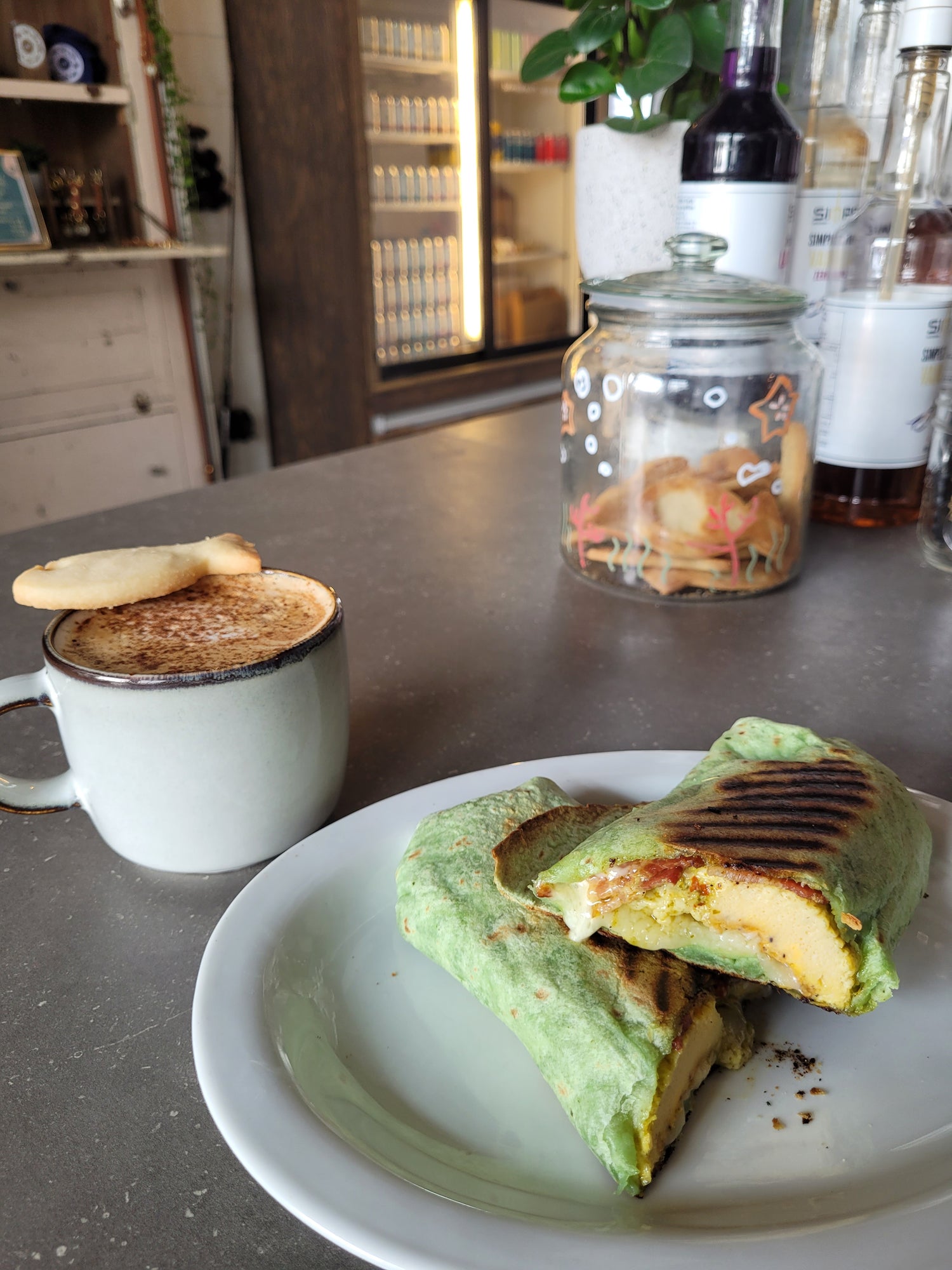 Current Feature: Pumpkin Spice Latte + Carrot Muffin + Breakfast Wrap
'Tis Pumpkin Spice season so come down and get into the cozy fall vibes with our Pumpkin Spice Latte and our Carrot Muffin!
If you're looking for something a bit more hearty, we now do our delicious breakfast sandwiches in wrap form!
Don't forget to grab your 2nd Annual Coffee Crawl stamp card to visit local cafes around town for the month of September and be entered to win a sweet prize pack valued at over $300!


COFFEE BAR HOURS:
Mon: 730 - 4pm
Tue: 730 - 4pm
Wed: 730 - 4pm
Thu: 730 - 4pm
Fri: 730 - 4pm
Sat: 8 - 5pm
Sun: 8 - 5pm
Nestled inside our bustling brewery, our new Tackle Box Coffee Bar beckons coffee drinkers with its warm and inviting atmosphere, and is the perfect place for coffee and beer enthusiasts to unite!

The space is beautifully designed with a modern and rustic vibe, with a cozy fireplace with nooks to sit in, our Community Room to use for meetings, and special touches like fresh flowers, that add to the charm and character of the space.

Our coffee bar is a favourite amongst locals and visitors alike; for catching up with friends, having a quiet work session, or enjoying a morning cup of coffee before getting into one of our beers in the afternoon!

The coffee bar offers a wide selection of options, ranging from classic espresso to indulgent lattes. With tea, hot chocolate, and seasonal specialties, everyone is bound to find their favourite drink here! Also available is a selection of delectable pastries and grab-and-go sandwiches, all made in-house.

Everything that goes into your favourite drink or treat is sourced from local suppliers, ensuring it's fresh, flavourful, and supports the local community.

Come visit us and connect with others, over great coffee and beer!